The research team of Academician Xue Qikun and Professor Chen Xi of the Department of Physics of Tsinghua University has recently made important progress in the research of iron-based superconductors. The research results are based on Phase separation and magnetic order in K-doped iron selenide superconductor. "Phase Separation and Magnetic Ordering" is published online in Nature Physics ("Nature · Physics"). The first author of the article is Li Wei, a 2005 doctoral student under the guidance of Academician Xue Qikun of the Department of Physics.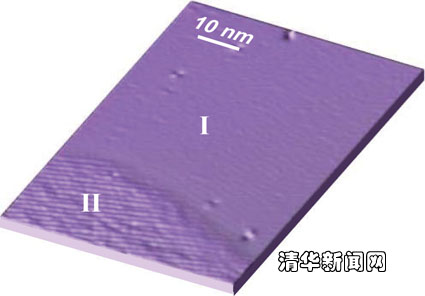 The picture shows the STM image of KxFe (2-y) Se thin film.
On the basis of their research papers published in Science in June this year, they took the lead in the international development of molecular beam epitaxial growth involving iron-based superconducting thin films of three different family elements, and prepared The high-quality KxFe2-ySe2 thin film is an important breakthrough in iron-based superconducting thin film materials. Using this high-quality thin film, they clarified several key scientific issues that currently exist in the KxFe2-ySe2 superconductor.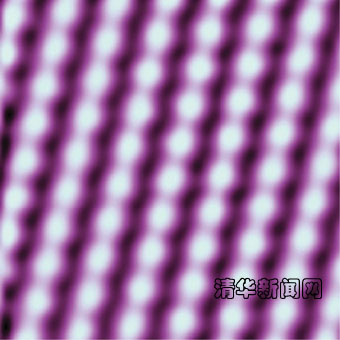 The picture shows the STM atomic resolution image of superconducting phase KFe2Se2.
KxFe2-ySe2 is a new type of iron-based superconductor discovered at the end of 2010. A series of experimental studies show that this superconductor has the following characteristics: superconducting transition temperature exceeds 30K, there is an insulating phase, √5 × √5 long-range magnetic ordered phase caused by iron vacancies, and 2 × 2 superstructure. The existence of multiple phases makes the study of its superconducting mechanism very difficult. Clarifying the relationship between these phases is the key to understanding its superconducting mechanism. The research team solved the problem of molecular beam epitaxial growth of compounds composed of three different group elements, and obtained a high-quality KxFe2-ySe thin film, which is an important breakthrough in the preparation of thin film materials. On this basis, they conducted a systematic study using high-energy resolution extremely low temperature strong magnetic field scanning tunneling microscopy technology. For the first time in their experiments, they undoubtedly proved the existence of phase separation in this system: KFe2Se2 with a strict chemical ratio is the superconducting phase, and √5 × √5-K2Fe4Se5 induced by iron vacancies is the antiferromagnetic insulating phase. In addition, they also developed a set of methods to detect the spin structure of superconductors, proving that the material also has a long-range antiferromagnetic sequence in the superconducting region, and this magnetic order will result in a 2 × 2 superstructure. This work clarified a series of confusions in the study of KxFe2-ySe2 and brought new methods and ideas for the study of unconventional superconductors.
The research was completed in collaboration with the research team of Researcher Ma Xucun of the Institute of Physics of the Chinese Academy of Sciences and Professor Hu Jiangping of Purdue University. The project was supported by the National Natural Science Foundation of China and the National Key Scientific Research Program of the Ministry of Science and Technology.
Artificial turf, or synthetic turf, is a man-made (something made by humans) surface made from synthetic materials, made to look like natural grass. It is most often used in arenas for sports that are normally played on grass. However, it is now being used on lawns and in commercial applications as well. The main advantage of artificial turf is low cost of maintenance as there is no need to water it and trim it. Artificial turf have some downsides to, like requirement for cleaning, toxicity and limited lifetime. Artificial turf is extremely popular in sporting industry - especially in US and regions where weather make it difficult to sustain high quality live turf.

Golf Green Grass,Golf Grass,Green Grass,Artificial Golf Grass
Shandong Shangkun Sports Health Technology Co.,Ltd. , http://www.shangkunsports.com