[Reporter]: Hello, I am very honored to interview you today. The day of the exhibition is almost over. How is your overall impression today?

[Li Defang]: This exhibition is actually very important to our group because we have three purposes. The first one is the appearance of the whole group company. It was originally a name of an electronic sanitary ware engineering company . Now, we are upgrading to the international group, International Group Co., Ltd., this overall improvement, this is a big improvement for a group or a company, if from the strength, from the scale of development, from all aspects if not in place, such It is meaningless to promote one, the second is not realistic, and the third is unrealizable. We are ready in all three aspects, especially in the aspect of product innovation and development, which has occupied the commanding heights. This core thing We have taken over, and we dare to upgrade in this way and present it as a whole. Then we passed this exhibition, we already feel that it is not exhibiting for two years. This time, the exhibitors are a great encouragement to our dealers, and let all our customers and our users see that we are doing it with care and doing it. Better to do more practical, so the new product display is very encouraging to the dealers, but also very attractive to do, this has played a role. The second is to say that our other two brands, one of which has the effect of investment promotion and brand promotion, the other is the effect of investment promotion, and the effect is very good today.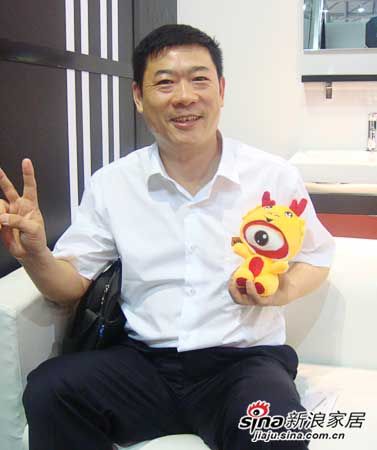 Li Defang, Marketing Director, Weiwei International Group

[Reporter]: Are you still quite satisfied with the effect of this time?

[Li Defang]: Very satisfied.

[Reporter]: Can you tell us what new products are brought this time?

[Li Defang]: We have intelligent high-end products, a full range of eight series products, there are eight models in eight series, as we continue to re-develop, we can evolve more styles, because we have the ability to manufacture ceramics, it may be possible Where is the smart industry constraint? It is a lot of smart only to make the cover on the top, not to build the toilet below, and we are the only one in the world to make the above and make the following, is the whole, this is to master this core competitiveness. Second, it is very large. Now our kiln is the largest kiln in Asia. This is something that other companies can't do. You can't afford it without this strength. How do you vote for a few hundred million kiln? This threshold is too high. The third is that we are the ordinary products, we also come up with the products, we call the ordinary toilet replacement products, or the new era products, have been done from all aspects, the most critical of which have several parts, the first It is our patented technology, called constant pressure technology. In this technology, many brands have not solved, we solved it, what do you mean? In our daily life, many toilets change the flushing effect due to the change of pressure. Especially when the low pressure is used, many toilets have a bad flushing function. This is very difficult to solve. The second one we solved the problem of less water to achieve a good flushing effect. I have to have a small amount of water and have to flush it. This contradiction has always restricted the entire bathroom of our toilet industry. This we solved, this is our second core solution. . The third is that we also solved the toilet industry. It was originally a water tank. We first removed the water tank, no water tank. This is the name of the toilet era. Others dare not dare, no water tank how to flush? This is not just technological innovation, it is invention and innovation. In the fourth aspect, we have made innovations in the product toilet scrubbing technology. The tradition is to rely on the straight-through type, one-water flushing method. We are now called the Ming tube super-vortex type. Why do you say this? Our straight-through style is like raining. It's impossible to go back down from the bottom down, only to wash it once, and I can turn it on the top, turn it like a vortex a few times, turn it once and turn it twice and then turn it. Three times, the impulse is even more, so this is our most greedy and best. Others are more beautiful, our toilets are very troublesome. Now I can buy them home like an electric appliance. It is so simple, the installation is very simple, that is, I can achieve it in DIY form. It must have been a professional installer, professional tool professional technology can be installed, can achieve DIY, very simple, this can be said to be a revolution in the industry, so you said that this exhibition has a great effect on us. Many problems that have plagued the entire industry have not been resolved. We have all solved this time.

[Reporter]: Is this a core competitiveness?

[Li Defang]: Right.

[Reporter]: We know that the home industry has not been very good in the past two years. What is the performance of our company in the first half of the year?

[Li Defang]: Performance growth, I have already said, we have increased by 15% to 20%.

[Reporter]: Have you thought about the strategies we will follow to ensure growth?

[Li Defang]: I just said that we will start a group's entire promotion strategy in the second half of the year, taking into account the development strategies of the three brands, and I have several major events now, one is the 20th anniversary of our group, the 10th anniversary of my toilet, And I have 100,000 customer resources, how to serve well, let them consume twice, this other brand can't do it, I have already entered the computer, so I have such a good resource, we will be very good in the second half. The operation, especially my core products, is very competitive and we are very confident.

[Reporter]: What is your opinion on the entire company and the entire industry in 2012?

[Li Defang]: I think it should be said that this industry must be developed. In one sentence, the times are developing, and this industry must be developing. It is only that some countries' policies have temporarily slowed down this market. According to this industry statistics, it should be said that some high-end small may be constrained. In the middle-end consumption may be flat, low-end consumption is still growing, so to speak, the possibility of buying high-end consumption is reduced, and the mid-end consumption is still flat. Because there are still ordinary toilets, this industry will always go forward.

[Reporter]: Does our company have cooperation with engineering renovation?

[Li Defang]: I have done a lot of engineering in all aspects of cooperation, but there are many close cooperation departments, but we are now looking for close cooperation with projects, such as those big real estate companies, like Country Garden, Vanke, Greenland, we can cooperate, including China's real estate associations will come to cooperate.

[Reporter]: The first half of the year has been handed over to the housing. Is our company involved in the protection of the housing?

[Li Defang]: We have a part of our housing.

[Reporter]: Will this sector increase its efforts to pay attention to it?

[Li Defang]: We are the most competitive, because we can operate very differently.

[Reporter]: Do you want to hold your core?

[Li Defang]: Yes, play your own core.

[Reporter]: Thank you.
Pump Water,Aquarium Water Pump,Submersible Water Pump,Electric Water Pump
HENGYUE INDUSTRIAL CO.,LTD , http://www.hetoaqarium.com